According to the National Turkey Federation, consumers purchase over 700 million pounds of turkey each year. It is estimated that 200 million of the 700 million pounds will be thrown away this year.

Food waste is not just a moral issue but it's also an environmental issue. An U.N. Environment Programme report states that food waste is responsible for adding 3.3 billion tons of greenhouse gasses to the planet's atmosphere every year.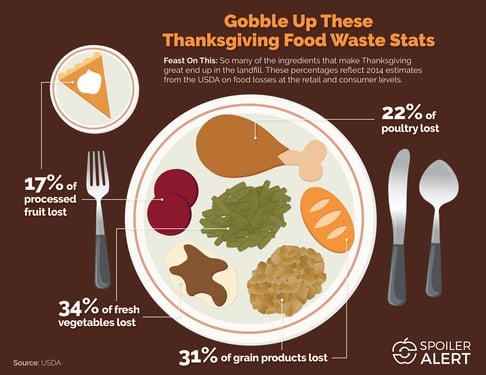 So for this Thanksgiving, let's try our best to make sure the food is going into our hungry bellies and not the landfill! Below are a few tips to keep in mind this holiday:
Prevention is Key
Prevent food waste by only buying what you need. Though buying in bulk may be convenient, research has shown that this shopping method leads to more food waste.
Make sure to check your inventory in the back of your fridge and cupboards to ensure you're not buying something that was just hidden behind the huge Costco tub of Nutella (wait...doesn't everyone buy Nutella at Costco...:). Additionally, try including the quantities when you make your next grocery list. Stick to the recipes to reduce impulse buying (remember that time you bought 15 pumpkin pies because they were on sale?) and reduce food waste as well.
Compost Instead of Trash
Set up a compost system at your dinner to ensure that compostable food is avoiding the trash bin. But before the food heads to the compost, let's find ways to make use of kitchen scraps. For example, bones and vegetable scraps could make a flavourful soup stock. Turkey giblets also add great flavour to gravy! Check out these easy recipes to use up your scraps. If you're tempted to make a refreshing Turkgiving powershake using your blender....don't - we tried and it was pretty gross!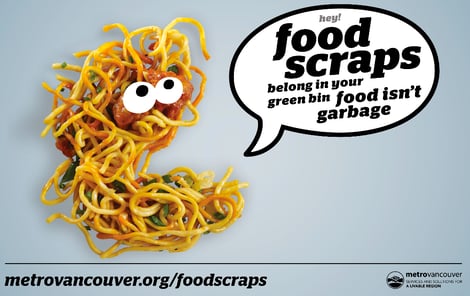 Serve Portions Instead of Buffet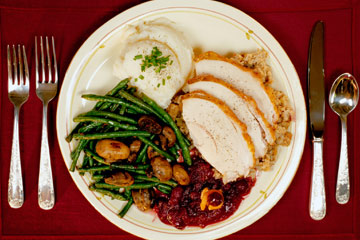 To keep everyone safe and reduce the spread of the COVID-19 virus, it is recommended to serve portions rather than have a buffet style. Giving out smaller portions will help guests be mindful of how much food they can actually finish. Using smaller plates for the meal can also help control portion sizes, this may sound sneaky but it really works. After all, it's always better to come back for seconds than to leave uneaten food on a plate, plus now you can make fun of Uncle Ed when he goes back 15 times for more stuffing!
Prepare For Leftovers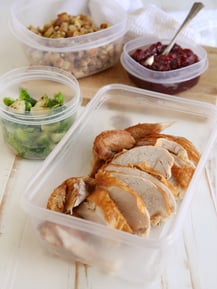 Before the dinner starts, ask your guests to bring reusable containers to take any leftovers home with them. This will definitely take the load off your shoulders. Or it's a great way to get rid of all that Tupperware that you've lost the lids for anyway, send it home with the company! In case you still have too much food, here's my favourite shepherd's pie recipe to make use of your leftover turkey, gravy and mashed potatoes.
Donate
Provide those less fortunate with the opportunity to enjoy a thanksgiving dinner by donating your leftover food! Some charities may not accept food that is not packaged or perishable so do check their website before you go donate. Here's a compiled list of local charities: https://www.canadahelps.org/en/vancouver-food-bank-charities/
From our family at RecycleSmart to yours, Happy Thanksgiving!