The textile industry has evolved into a $1 trillion industry globally, comprising clothing, as well as furniture and mattress material, linens, draperies, cleaning materials, leisure equipment, and many other items. With such a giant industry comes a frightening amount of waste. In Canada alone, textile waste contributes 10 million tonnes to our landfill.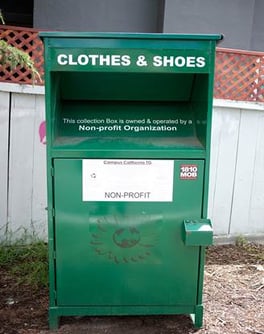 Once in landfills, natural fibers can take hundreds of years to decompose. They may release methane and CO2 gas into the atmosphere. Additionally, synthetic textiles are designed not to decompose and may release toxic substances into groundwater and surrounding soil.
While this sounds bleak, we can help the environment if we start recycling textile! Textile recycling offers the following environmental benefits:
Decreases landfill space requirements, bearing in mind that synthetic fiber products do not decompose and that natural fibers may release greenhouse gasses
Avoided use of virgin fibers
Reduced consumption of energy and water
Pollution avoidance
Lessened demand for dyes.
Textiles for recycling are generated from two primary sources. These sources include:
Post-consumer, including garments, vehicle upholstery, household items and others.
Pre-consumer, including scrap created as a by-product from yarn and fabric manufacture, as well as the post-industrial scrap textiles from other industries.
One of the easiest ways to recycle is to donate!
The donation of old garments is supported by non-profit as well as many corporate programs. Ontario Federation of Cerebral Palsy, and Kidney Clothes are a few examples of charitable organizations collection used clothing (Hint: COVID19 has affected many of these programs so check the websites to see what the current status is). H&M has a garment collection program accepting all textiles – any brand, any condition! The textiles are sent to the nearest recycling plant, where they are often sorted by hand for reuse or recycled into rags. For every bag of textiles, the customer receives a discount of 15% off the next in store purchase.


The main benefit of textile recycling activities is the opportunity to reuse clothing.
Through the reuse of clothes and textiles, we can avoid pollution and energy-intensive production of new clothing. Additionally, clothing that cannot be reused may be repurposed into products such as rags or recycled into fabric or other material for reprocessing.