It's great to go green, and the good news is we don't have to turn into the Grinch! (Or a socially distanced Santa, for that matter!) Giving really is the true meaning of Christmas and presents are a great way to show your family you're thinking of them, especially from afar. Though, we all have that one person on our list that is hard to shop for. Fret not, we have a list of green gifts that everyone will enjoy!

These artisan-made slippers are made using upcycled, recycled, and deadstock fabrics, for comfy and stylish days at home. The company not only pays living wages but also profit-shares with their artisans in Pakistan and helps build schools and sponsor children's education. This is an amazing gift with great impact behind it!
These sets of bamboo utensils includes a variety of products from forks, knives, spoons and chopsticks, and more! This eco friendly gift is perfect for anyone who loves restaurant leftovers or taking their meals on-the-go.

Single use plastic wrap is harmful to your family and harmful to the environment. Replacing wrap with a cotton bowl cover is a way to protect your family from thetoxic chemicals in the plastic leeching into your food. Each fabric bowl cover is hand printed and hand sewn on the best quality organic cotton.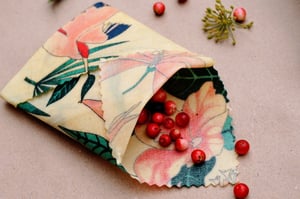 These beeswax wraps are self-adhesive and takes any shape you can imagine so they act like plastic wrap but can be used more than once. It's biodegradable, compostable and it can be used as fire starters for campfires, BBQs or wood stoves once you're done using it.

Have a friend who's the mom of 10 plants? This plant hanger is perfect because it doubles up as beautiful macramé art. The level of care and intricacy that went into knotting and creating this piece is seen and felt.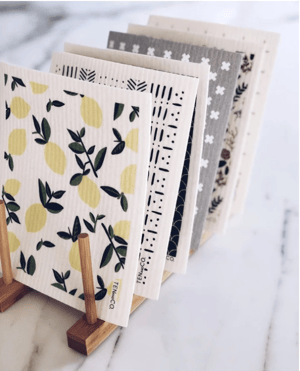 The sponge cloth has been a staple in Swedish kitchens for over 60 years and can absorb 15x its own weight in liquid (up to 3/4 of a cup). Sponge cloths replace the use of up to 17 rolls of paper towel, reducing the plastic packaging and overall waste in landfills. These eco-friendly sponge cloths will clean all kitchen and bath surfaces without streaking. The cellulose (wood pulp) -cotton composition is 100% biodegradable and can be thrown away with compostable waste.The cloth is naturally anti-bacterial due to its quick drying ability which means no 'dish cloth' smell!
Happy holiday shopping!