Waste and recycling standards are fragmented across Canada, North America, and the globe. What you can recycle in Hamilton ON is not exactly the same in Fort McMurray AB and different again in Nanaimo BC.
The differences come down to municipal, provincial and federal legislation and regulations that combine to create a complex web of responsibility and accessibility. Whatever can't be recycled is sent for disposal and in Canada that often means it's headed to the landfill.
Much of Canada's solid waste is still buried in the ground or in Waste Wizard lingo "sent to landfill". A landfill is essentially a designated area where waste is buried underground however there are different types of landfills depending on the type of waste you are disposing of. Want to fill your head with landfill facts? Zip on over to our friends at Dumpsters.com for a quick overview of the different types of landfills.
Some landfills are very high-tech with gas harvesting systems, check out the City of Glendale gas harvesting system video here:
Modern landfills have advanced environmental protection features while older landfills are little more than a hole in the ground where waste is disposed of often with unintended consequences.
What are the potentially negative effects of landfills?
Reliance on landfilling our waste is an expensive and unsustainable option. The siting and permitting process takes many years and is an extremely expensive process. Nobody wants a landfill in their community for a variety of reasons including:
Air pollution

Biodiversity imbalance

Groundwater pollution

Property value decrease

Health Impacts



These issues significantly impact our local communities and ecosystems and commercial waste generators in Canada are some of the biggest contributors to landfill waste.
Landfill facilities may be publicly or privately owned and operated and it is difficult to estimate remaining landfill capacity across Canada. The province of Ontario has conducted significant research over the past several years on landfill capacity and the Ontario Waste Management Association estimates that Ontario will run out of existing landfill space within the next 11-14 years. This impending issue is becoming a pressing issue for Ontario and industry experts are starting to sound the alarm. President and CEO of Walker Industries, Geordie Walker explains that "In the next five to 10 years, you've got up to five major landfills that are that are going to close down, it can take a decade to acquire the necessary permits for a new landfill, and another two to five years to build it." Based on those timelines Ontario doesn't have any time to waste as it tries to figure out what to do next.
What can we do moving forward?
The Ontario Ministry of the Environment, Conservation, and Parks operates on a mandate to promote healthier communities and economic prosperity by protecting the air, land, and water in Ontario. The ministry has set targets to divert 50% of the total waste produced in the province by 2030 and 80% by 2050. But a lack of regulation, enforcement, political will, and economic incentive has left the province falling far short with recent studies showing that the biggest waste generators are recycling at lower rates than they were 20 years ago. This means more waste flowing into already fast filling landfills which is pushing Ontario towards a critical junction point in the next few years. Ontario will need to build more landfills (and quickly) or improve the recycling performance within the province to reduce the amount of waste sent to Ontario landfills each year.
Reducing our collective environmental impact is a value held by many Canadians and the social responsibility of businesses large, medium, and small to lead by example is increasingly a hot topic. Many organizations have begun the adoption of hiring environmental professionals and implementing a sustainability team within their organization to oversee the before and after of the lifecycle of their waste materials. The best way to be part of the solution to Canada's landfill problem is to improve the amount of waste your business diverts from landfill or as the Waste Wizards call it "waste diversion". By sorting and recycling your waste you will be part of the solution and reduce the number of landfills required in the future.
Reducing waste sent to sent to landfill doesn't have to be hard and can start with a simple change in your business philosophy of embracing the reuse and recycle ideal when it comes to the waste your business produces. A great example of this in action is how RecycleSmart helped our customer Marriott International divert 150 sofa chairs equating to approximately 7 metric tonnes that were diverted from Ontario landfills.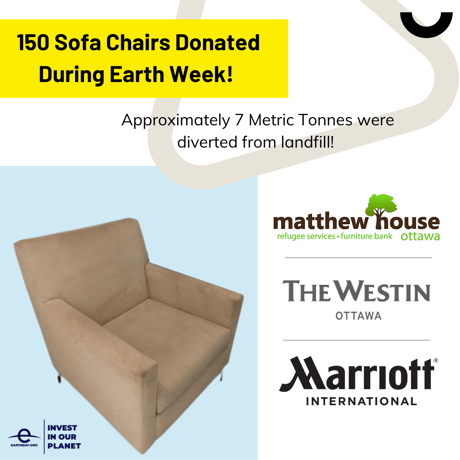 RecycleSmart has over a decade of experience working with businesses many different types of sectors including:
Retail, Grocery and Entertainment
Residential and Commercial Property Management
Manufacturing and Industrial
Transportation and Logistics
Automotive
Hospitality
We take the traditional approach to waste and recycling programs and supercharge your program with technology and innovation. We slam your bins closed when it comes to contamination charges, and operational costs and reduce the quantity of waste sent to landfills.
Ready to move from trying to figure out all this on your own to having a true partner that has your "waste under management"? The first step is to get in touch with the Waste Wizards at RecycleSmart.